Welcome!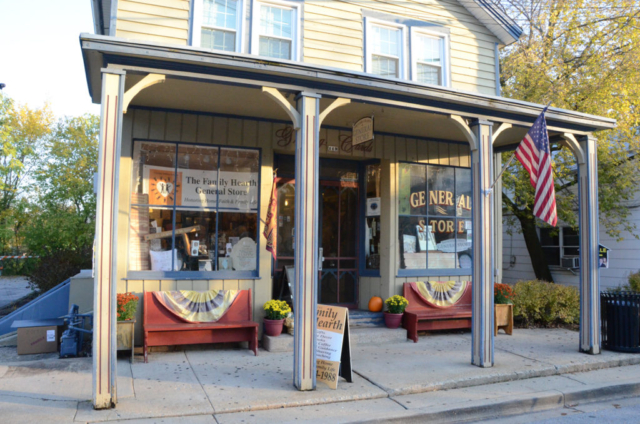 You'll find a little bit of yesterday that will delight you today at The Family Hearth General Store in Historic Downtown Frankfort, Illinois. Situated in an authentic 1870s-style general store on the main street of town with the original wide plank pine flooring, the shop is full of vintage wares and unique gifts! Honoring home, faith and family life, the shop features gifts for special family occasions, weddings, anniversaries, new babies, moms, dads and families!

From Victorian replicas, vintage decor, quilts, candles, antique samplers and jewelry to unique books, hand-milled soaps, old-time candy, ice cream and bottles of pop, you'll find a warm welcome here "around the family hearth."

Pull up a chair and enjoy a book in our reading room, play checkers, or bring along your laptop! A cozy fireplace and fresh gourmet coffees and teas await your visit. Come sit a spell!

Located on the main street of historic downtown Frankfort at 119 Kansas Street, the Family Hearth General Store is open Tuesday-Saturdays 11am to 4pm, some Sundays and evenings during special events in town, closed Mondays. Please call first (708) 334-1988 to be sure we are open when planning a visit from out of town as the shop will be closed when traveling to workshops, retreats, and trade shows.